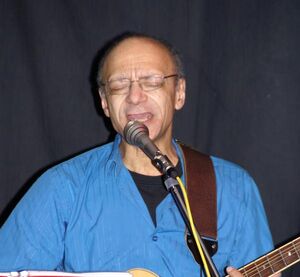 Roger Elcourt is a musician who starred in the French Sesame Street co-production, 1, Rue Sésame, as Roger.
Elcourt was the show's musical director, and wrote the songs. On screen, he was featured as part of the resident Rue Sésame singing group, "The Trio Sésame", with Denis Demoulin and Claude Sonneville (who performed the singing voices for the Muppets, Mordicus and Toccata). The three were French folk singers, and had not worked with each other before the show began.
Elcourt is featured on the albums:
External links
Ad blocker interference detected!
Wikia is a free-to-use site that makes money from advertising. We have a modified experience for viewers using ad blockers

Wikia is not accessible if you've made further modifications. Remove the custom ad blocker rule(s) and the page will load as expected.