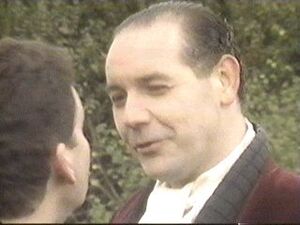 Roger Blake is a Welsh actor and impressionist who played Giant Thor in the TV movie Jack and the Beanstalk: The Real Story.
Blake worked in commercial voice-overs, leading to work on the puppet series Spitting Image imitating various celebrities (notably Prince Philip). He appeared on the sitcoms BlackAdder,Red Dwarf (as Noel Coward), and Only Fools and Horses, and later regularly on the RAF comedy series All Along the Watchtower. Blake also had dramatic roles on The Bill, Casualty, and Hustle. Films include Car Trouble (with Julie Walters) and Patriot Games (as policemen in both). Character voice work includes the Simon the Sorcerer video games and the animated film Flushed Away. On radio, he was regular on the BBC series Life, Death and Sex with Mike and Sue.
External links
Ad blocker interference detected!
Wikia is a free-to-use site that makes money from advertising. We have a modified experience for viewers using ad blockers

Wikia is not accessible if you've made further modifications. Remove the custom ad blocker rule(s) and the page will load as expected.