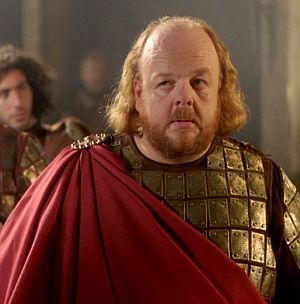 Roger Ashton-Griffiths (b. 1957) is a British character actor who has been in multiple Creature Shop-effects films, beginning with Dreamchild (as Mr. Duckworth). In The Odyssey, he played Polites, who for one scene is turned into an (animatronic) pig, and briefly supplies the voice as well. In Merlin, he played Sir Boris.
Since the 1980s, Ashton-Griffiths has played supporting roles in scores of movies, usually alternating between stuffy politicians, priests, and policemen and more eccentric portrayals. Films include Brazil (as a priest), Haunted Honeymoon (as Gene Wilder's cross-dressing brother), Young Sherlock Holmes (as Lestrade), The Cook, the Thief, His Wife & Her Lover (with Michael Gambon), A Knight's Tale, Gangs of New York (as P.T. Barnum), Shadowlands, The Madness of King George, The Portrait of a Lady (with Nicole Kidman), and What a Girl Wants. In 2010, he had a larger role than usual in Woody Allen's ensemble comedy You Will Meet a Tall Dark Stranger (as Jonathan, romancing Gemma Jones)
On television, he appeared on Lovejoy, Doctor Who and Torchwood, The Young Ones, Cadfael (with Derek Jacobi), The Young Indiana Jones Chronicles, Keen Eddie, The Tudors, and Coronation Street (multiple episodes as a neurosurgeon). More recently, he recurred as Mace Tyrell on Game of Thrones.
External links
Ad blocker interference detected!
Wikia is a free-to-use site that makes money from advertising. We have a modified experience for viewers using ad blockers

Wikia is not accessible if you've made further modifications. Remove the custom ad blocker rule(s) and the page will load as expected.