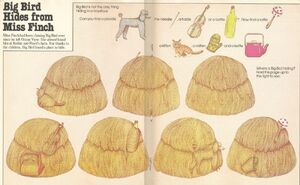 Rodica Prato is a Romanian born artist and illustrator who contributed to Sesame Street Magazine in the 1980s and '90s. Her art relies on elaborate line work.
Prato's work has been used to illustrate various cookbooks, including Martha Stewart's, as well as Stewart's gardening and woodworking books. She drew the map for the Brooklyn Botanical Garden and supplied maps for issues of National Geographic and Travel & Leisure. She provided cover art for three of Garrison Keillor's novels and Michael Crichton's Micro, as well as children's books (The Mermaid's Treasure, King Midas) and 88 Keys: The Making of a Steinway Piano.
External links
Ad blocker interference detected!
Wikia is a free-to-use site that makes money from advertising. We have a modified experience for viewers using ad blockers

Wikia is not accessible if you've made further modifications. Remove the custom ad blocker rule(s) and the page will load as expected.