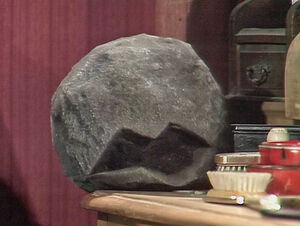 A talking Muppet rock appeared in episodes 301 and 302 of The Muppet Show. In episode 301, Kris Kristofferson discusses with Rita Coolidge how everything on the show walks and talks - animals, vegetables... "Don't forget about the minerals!" the rock adds.
In the next episode, after Kermit the Frog introduces Leo Sayer as the guest and comments that it's not often they have any really good rock on the show, the rock takes offense.
The rock was performed by Jerry Nelson in episode 301, and Dave Goelz in episode 302.
See also
Ad blocker interference detected!
Wikia is a free-to-use site that makes money from advertising. We have a modified experience for viewers using ad blockers

Wikia is not accessible if you've made further modifications. Remove the custom ad blocker rule(s) and the page will load as expected.