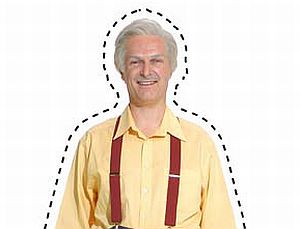 Robin Stevens is a British puppeteer who performed on Labyrinth, as part of the goblin unit.
For over 20 years, Stevens has been a key member of Ragdoll Productions, a leading British producer of puppetry for television, and the studio behind The Teletubbies. Stevens starred on their first series, Pob's Programme, as a monkey-like character named Pob. Subsequent credits included Jim on Rosie and Jim and Ton on Tot's TV. Most recently, Stevens has contributed to Boohbah doubling as a script writer and appearing on-camera as Grandpappa.
Ad blocker interference detected!
Wikia is a free-to-use site that makes money from advertising. We have a modified experience for viewers using ad blockers

Wikia is not accessible if you've made further modifications. Remove the custom ad blocker rule(s) and the page will load as expected.