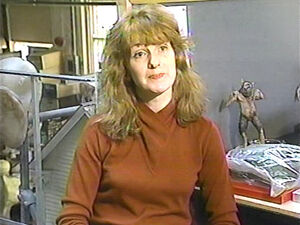 Roberta Kurtz, also known as Roberta Jimenez Kurtz, produced Mother Goose Stories. She also received "created by" credit on the series.
Roberta Jimenez was head of public relations for Jim Henson and received screen credit on The Dark Crystal (promotions and publicity coordinator) and Labyrinth (Tri-Star project coordinator). The latter billed her as Roberta Jimenez Kurtz, following her 1984 marriage to producer Gary Kurtz.
Ad blocker interference detected!
Wikia is a free-to-use site that makes money from advertising. We have a modified experience for viewers using ad blockers

Wikia is not accessible if you've made further modifications. Remove the custom ad blocker rule(s) and the page will load as expected.