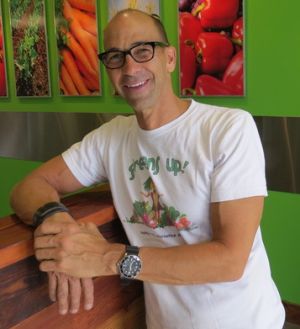 Robert Yamarone is a chef and food stylist, often creating food-based character images, who contributed to Sesame Street Magazine in the 1990s. He also contributed two food sculptures to the 1999 Sesame Street calendar Thirty Years and Counting: Sesame Street Calendar. He also styled the actual cookies used in Cookie Monster's Got Milk? print ad.[1]
Yamarone has contributed food images, styling, or recipes to Family Circle, McCall's, Nickelodeon Magazine, GQ, The New York Times, and others. He currently owns and cooks at the Greens Up! salad bar chain (three locations in and near Santa Monica, California).
Sources
↑ Archived page of Foodstyler.com - Robert Yamarone's official site, now defunct. Tearsheets. Accessed June 4, 2016]
Ad blocker interference detected!
Wikia is a free-to-use site that makes money from advertising. We have a modified experience for viewers using ad blockers

Wikia is not accessible if you've made further modifications. Remove the custom ad blocker rule(s) and the page will load as expected.