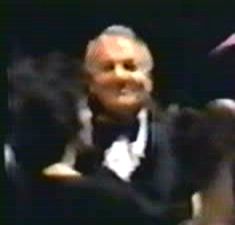 Robert Mandan (b. 1932) is an actor who starred as the philandering Chester Tate on Soap. He made a cameo appearance in The Muppets Go Hollywood, along with Soap co-star Richard Mulligan, and can be seen in several dance scenes, notably behind Rita Moreno and Floyd Pepper.
Mandan's other TV credits include regular roles on the soap operas From These Roots and Search for Tomorrow and guest spots on The Love Boat, Barney Miller, The Rockford Files, The Facts of Life (as the man who marries Charlotte Rae in the series finale), Star Trek: Deep Space 9, and ER.
External links
Ad blocker interference detected!
Wikia is a free-to-use site that makes money from advertising. We have a modified experience for viewers using ad blockers

Wikia is not accessible if you've made further modifications. Remove the custom ad blocker rule(s) and the page will load as expected.