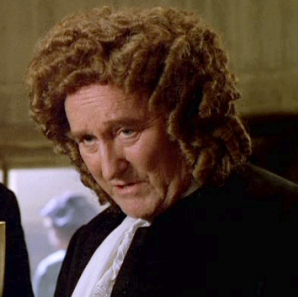 Robert Hardy (1925-2017) was a British character actor who appeared in Gulliver's Travels as Bedlam adminstrator Dr. Parnell. Hardy frequently played historical personages, ranging from Winston Churchill (multiple times) and Benito Mussolini to Prince Albert.
In films, he played Cornelius Fudge in the Harry Potter movies, and also appeared in Young Winston (co-starring Anne Bancroft), Kenneth Branagh's Frankenstein, and the 2005 version of Lassie. On television, Hardy starred as Dr. Siegfried Farnon on All Creatures Great and Small and guest starred on Mrs. Columbo, The Casebook of Sherlock Holmes (as master blackmailer Charles Augustus Milverton), Buck Rogers and the 25th Century, and Upstairs, Downstairs; the latter was one of seven appearances Hardy made on Masterpiece Theater showcases.
External links
Ad blocker interference detected!
Wikia is a free-to-use site that makes money from advertising. We have a modified experience for viewers using ad blockers

Wikia is not accessible if you've made further modifications. Remove the custom ad blocker rule(s) and the page will load as expected.