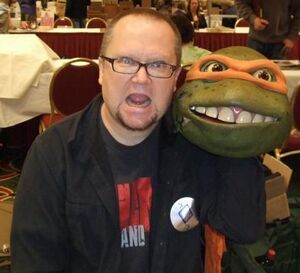 Robbie Rist (b. 1964) is a former child actor who provided the voice of Michaelangelo in Teenage Mutant Ninja Turtles and Teenage Mutant Ninja Turtles II: The Secret of the Ooze.
In television, Rist began his career at the age of ten, joining the cast of The Brady Bunch for the final season as Cousin Oliver, and also appeared on The Mary Tyler Moore Show as Ted's adopted son David. Other credits include Whiz on Kidd Video and voice work on Balto, Batman: The Animated Series, and Naruto.
External links
Ad blocker interference detected!
Wikia is a free-to-use site that makes money from advertising. We have a modified experience for viewers using ad blockers

Wikia is not accessible if you've made further modifications. Remove the custom ad blocker rule(s) and the page will load as expected.