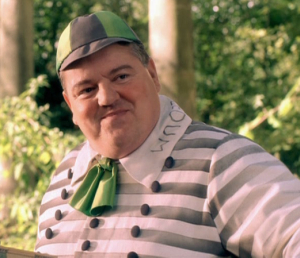 Robbie Coltrane (b. 1950) is a burly Scottish character actor who appeared in Buddy as Dr. Bill Lintz and the Creature Shop TV version of Alice in Wonderland as Tweedledum. Coltrane also voiced James in the Creature Shop TV-movie Pride.
Coltrane starred in the British crime drama Cracker, as well as writing and appearing in the BBC Scotland comedies A Kick Up The Eighties and Laugh...? I Nearly Paid My License Fee. He also has appeared in such films as Nuns on the Run, National Lampoon's European Vacation, From Hell, and two James Bond films, and more recently has played Hagrid in the Harry Potter movies.
External links
Ad blocker interference detected!
Wikia is a free-to-use site that makes money from advertising. We have a modified experience for viewers using ad blockers

Wikia is not accessible if you've made further modifications. Remove the custom ad blocker rule(s) and the page will load as expected.