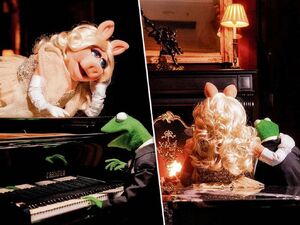 The Ritz-Carlton Hotels form a luxury hotel chain, parented by the Ritz-Carlton Hotel Company. Founded in 1983 and headquartered in Maryland, the company is a subsidiary of Marriott International.
Kermit the Frog, Miss Piggy and James Bobin stayed at the Berlin, Germany location for a couple of days around January 19, 2012, while promoting Die Muppets. A photo call and the press conference for the film were held at the hotel's ballroom.
Reporter Judith Bonesky "secretly followed the couple around the hotel" for daily tabloid Bild, learning about the three-course candle light dinner at the "Brasserie" (no pork, ham or frog legs), listening to Kermit playing and singing Joe Cocker's "You Are So Beautiful" for Miss Piggy at the piano bar, and being told by the couple at the lobby's fireplace that, while the two share a hotel room, the pig sleeps in bed, while the frog sleeps in the tub to stay moist.[1]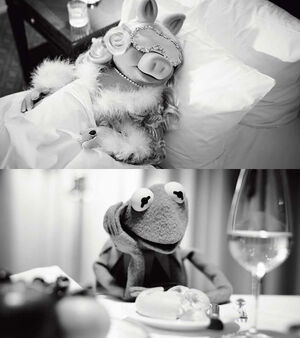 Reporter Jörg Böckem later caught up with the couple at the hotel, to interview them for renowned weekly newspaper Die Zeit. Both Muppets posted an essay in the paper's series Ich habe einen Traum (I Have a Dream), illustrated with a black and white photo of each, shot on location. [2][3]
Sources
↑ Bild.de - Hier turtelt Miss Piggy mit Kermit im Ritz ("Miss Piggy Flirts with Kermit at the Ritz") by Judith Bonesky (2012-01-20)
↑ Die Zeit - Kermit der Frosch "Wer schafft schon den Sprung aus dem Sumpf ins Showgeschäft?" ("Who Else Ever Made It from Swamp to Showbiz?") with Jörg Böckem (2012-01-25)
↑ Die Zeit - Miss Piggy: "Als Diva verlange ich, dass jeder Tag traumhaft ist – sonst rollen Köpfe!" ("As a Diva, I Demand Every Day to Be Wonderful - Otherwise Heads Will Roll!") with Jörg Böckem (2012-01-25)
External links