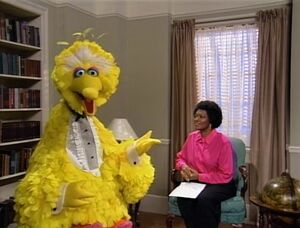 Rita Dove (b. 1952) is an author and lyricist, honored as the 1993 United States Poet Laureate. She has attended the Universities of Miami, Tübingen and Iowa, and taught creative writing at Arizona State University.
Dove has collaborated with composer John Williams on two occassions: in 1998 for his song cycle "Seven for Luck" (performed by Joshua Bell) and with Williams and director Steven Spielberg for the documentary The Unfinished Journey.
In 1995, Dove appeared on Sesame Street in a segment with Big Bird.[1] The Bird hosts "Big Bird's Poetry Corner", where he confusingly thinks Rita is the poet "Lori Ette". (EKA: Episode 3318)
Sources
Ad blocker interference detected!
Wikia is a free-to-use site that makes money from advertising. We have a modified experience for viewers using ad blockers

Wikia is not accessible if you've made further modifications. Remove the custom ad blocker rule(s) and the page will load as expected.