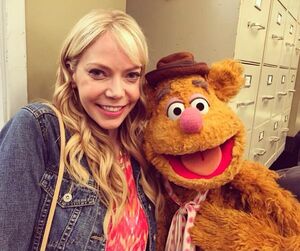 Riki Lindhome (b. 1979) is an American actress, comedian and musician best known for being the "Garfunkel" half of the musical comedy duo Garfunkel & Oates. Her television credits include appearances in episodes of Gilmore Girls, House, Pushing Daisies, Buffy the Vampire Slayer and The Big Bang Theory.
Lindhome appears on The Muppets as Becky, Fozzie's human girlfriend, beginning in "Pig Girls Don't Cry" and continuing in "Walk the Swine" and "Too Hot to Handler."
Lindhome replaced Margo Harshman who had played the role of Becky in the network presentation pilot for the show.
Ad blocker interference detected!
Wikia is a free-to-use site that makes money from advertising. We have a modified experience for viewers using ad blockers

Wikia is not accessible if you've made further modifications. Remove the custom ad blocker rule(s) and the page will load as expected.