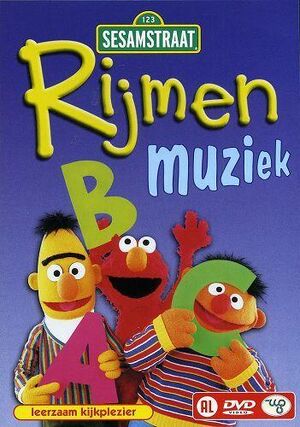 Rijmen Muziek (Rhyming Music) is a DVD release of Sesamstraat, the Dutch co-production of Sesame Street. The DVD was previously released on two videotapes.
The DVD contains a sixty minute compilation of insert clips from the Dutch episodes and American clips dubbed to Dutch. The first half focuses on Music. The second half focuses on Rhyming.
This DVD was the seventh Sesamstraat DVD produced by Weton Wesgram (SESDV007) in a series of Sesamstraat compilation DVDs.
Segments
Music
Zingende Ladder (Singing Stairs)
De Hikker van de Opera (The Person With Hick-ups from the Opera)
Tuba or Not Tuba
Arie Mijn Kanarie (Arie My Canary)
Music by Bas Rompa, Lyrics by Basl
Gitaarspelen (Playing the Guitar)
Majoor Holley Telt Van 1 Tot 6 (Major Holley is Counting 1 To 6)
De Horlepiep (Do The Horlepiep)
Accordeon
Dorst (Thirsty)
Drie Muzikanten (Three Musicians)
Meneer Tuba Luistert Niet (Mister Tuba Doesn't Listen)
Weg Met Dat Eendje (Loose That Duckie)
Konijn (Rabbit)
Liedje (Song)
Rhyming
Rijmelaritus (Rhymelaritus)
Cyraneus de Bergerac (Cyranose de Bergerac)
Q Q Kukeleku
De Rijmies Gaan Kamperen (The Rhymies Go Camping)
Liedje Over Niets (Song About Nothing)
Apekop (Monkey Face)
Grover de Zanger (Singer Grover)
Componeren (To Compose)
Wat Rijmt Op Hert (What Rhymes On Deer)
Dichter Paultje Poen (Poet Paulie Poen)
Rijmen op School (Rhyming at School)
Slaap Kindje Slaap (A Lullaby)