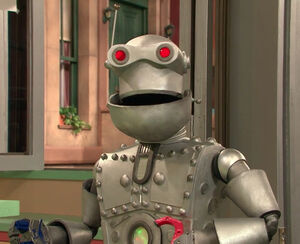 Rico is a robot on Sesame Street who comes from a book read by Chris to Elmo, Rosita and Telly in Episode 4185. His story is all about how Rico likes to help people, which inspires the three monsters to become helpful for the day. Rico himself later shows up at Hooper's Store to order lunch.
Rico also appears in some Word of the Day sketches, including "Fabulous" and "Machine". He was known as the Season Bot 3000 in the segment for "Season". (sesamestreet.org) He was played by Joey Mazzarino in most of his "Word of the Day" appearances.
The same puppet was used as Memorybot in The Best of Elmo 2.