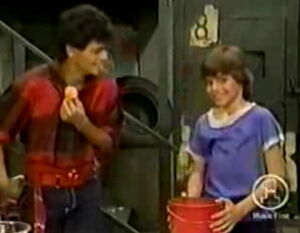 Ricky Martin (b. 1971) is a Latin American pop singer, famous for such songs as "Livin' La Vida Loca". He also supplied the Spanish voice of Disney's Hercules for the Mexican market.
Early in his career, Martin was a member of the Latino boy band Menudo, who appeared on Sesame Street in 1985 to sing "Gotta Get on Movin'", and to demonstrate the word "AGUA".
In 2004, Martin appeared alongside Kermit the Frog at the Golden Jubilee for Queen Elizabeth II.
References
Pepe the King Prawn, in a 1999 TVGuide.com interview, responded to potential comparisons to Ricky Martin: "Eh, si, I understand this is a handsome man. But perhaps one day we could meet. I understand he can sing. Ees this true? If so, maybe he will sing with me, okay. I challenge him to a sing-off!"
Ad blocker interference detected!
Wikia is a free-to-use site that makes money from advertising. We have a modified experience for viewers using ad blockers

Wikia is not accessible if you've made further modifications. Remove the custom ad blocker rule(s) and the page will load as expected.