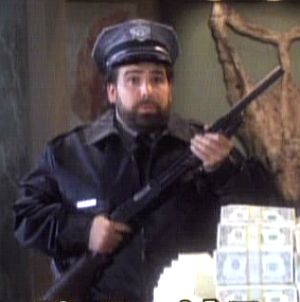 Rick Zieff is an actor who appeared in the third season Dinosaurs episode "The Clip Show II," as a guard. His other TV credits include guest spots on Buffy the Vampire Slayer (as teacher Mr. Whitmore in "Bad Eggs"), Weird Science (multiple episodes), Malcolm in the Middle, ER, Providence, The Practice, Law & Order, and Melrose Place.
Zieff's film credits include bits in Missisippi Burning, Nick of Time, and Terminator 3: Rise of the Machines. A professional voice coach, Zieff has also supplied voice-overs for such projects as the anime film Steamboy and the Academy Award-nominated short The Chubbchubbs!.
External links
Ad blocker interference detected!
Wikia is a free-to-use site that makes money from advertising. We have a modified experience for viewers using ad blockers

Wikia is not accessible if you've made further modifications. Remove the custom ad blocker rule(s) and the page will load as expected.