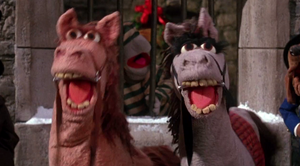 Richmond the Horse is a grey Muppet horse seen in The Muppet Christmas Carol. While his name wasn't mentioned in the film, Gonzo and Rizzo the Rat refer to him by name in the 20th anniversary audio commentary.
Ad blocker interference detected!
Wikia is a free-to-use site that makes money from advertising. We have a modified experience for viewers using ad blockers

Wikia is not accessible if you've made further modifications. Remove the custom ad blocker rule(s) and the page will load as expected.