Ad blocker interference detected!
Wikia is a free-to-use site that makes money from advertising. We have a modified experience for viewers using ad blockers

Wikia is not accessible if you've made further modifications. Remove the custom ad blocker rule(s) and the page will load as expected.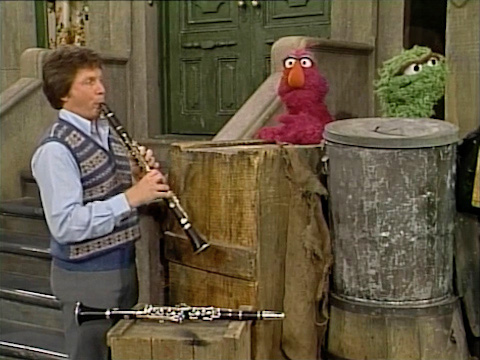 Richard Stoltzman is a clarinetist who has played with over 100 orchestras, and has won two Grammy Awards for Best Chamber Music Performance. He is a member of the faculty at the New England Conservatory in Boston, Massachusetts.
Stoltzman appeared on Sesame Street in the late 80s, where he opens the show by playing the Sesame Street Theme on the clarinet. Later in the episode, Oscar the Grouch has a clarinet that's been taken apart. Stoltzman shows Oscar and Telly that just playing the pieces doesn't produce a good sound -- but when you put all the pieces together, you can play it. He finishes the demonstration by playing Rhapsody in Blue for Oscar and Telly. (YouTube)