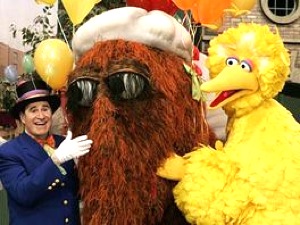 Richard Kind (b. 1956) is a comic character actor on stage as well as film and TV, known for such sitcom roles as Mark Devanow on Mad About You and Paul Lassiter on Spin City.
Kind guest starred on Sesame Street as the Fairy Balloon Person in a 2005 episode. For the Healthy Moment preceding the episode, he appeared with Snuffy to explain how covering your mouth when coughing and covering your nose or snuffle when sneezing can prevent germs from spreading. He also appeared in a season 43 episode as Mr. Disgracy. He also portrayed the jury foreman in the Creature Shop-effects film The Producers (having played Max Bialystock for a time in the Broadway version).
Kind has supplied voices for the Pixar films A Bug's Life, Cars, Toy Story 3, Cars 2, and Inside Out.
External links
Ad blocker interference detected!
Wikia is a free-to-use site that makes money from advertising. We have a modified experience for viewers using ad blockers

Wikia is not accessible if you've made further modifications. Remove the custom ad blocker rule(s) and the page will load as expected.