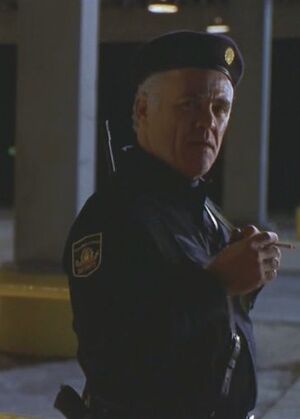 Richard Fullerton is a character actor, often playing police, military, or gruff tough guys. He appeared in Muppets from Space as the gate guard who Pepe advises to quit smoking.
Fullerton has been active in film and television since the seventies, appearing in episodes of Little House on the Prairie, The Incredible Hulk, Matlock, Charlie's Angels, The Dukes of Hazzard, M*A*S*H , Hill Street Blues, Dawson's Creek, Banshee, and Sleepy Hollow, plus over a dozen TV movies (usually as detectives, policemen, or guards). Films include Remember the Titans, Cabin Fever (as the sheriff), Black Knight, Secretariat, and Body Count (with John Leguizamo).
External links
Ad blocker interference detected!
Wikia is a free-to-use site that makes money from advertising. We have a modified experience for viewers using ad blockers

Wikia is not accessible if you've made further modifications. Remove the custom ad blocker rule(s) and the page will load as expected.