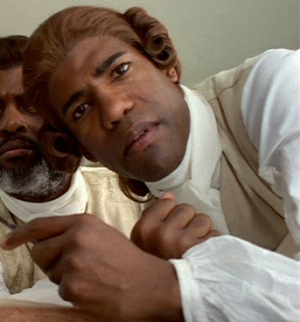 Ricco Ross (b. 1960) is an Illinois-born actor who has worked extensively in film and television in both the United States of America and England. He appeared in Gulliver's Travels as one of the three Brobdignagian scientists examining the diminutive Gulliver.
Following guest roles on US series such as Hill Street Blues in the early 80s, Ross moved to the UK, where he guest starred on television Doctor Who as the charismatic, rapping Ringmaster of "The Greatest Show in the Galaxy," and also appeared as the lift attendant in the New York episodes of Jeeves and Wooster. He also appeared on the stage as Wild Bill Hicok in Calamity Jane.
Returning to the states, he appeared on ER, The Practice, The Pretender, and the prime-time soap opera Beverly Hills, 90210. Film credits include Aliens, Hackers, Mission: Impossible, Fierce Creatures (with John Cleese), and half of the title characters in the 2003 feature Nate and the Colonel.
External links
Ad blocker interference detected!
Wikia is a free-to-use site that makes money from advertising. We have a modified experience for viewers using ad blockers

Wikia is not accessible if you've made further modifications. Remove the custom ad blocker rule(s) and the page will load as expected.