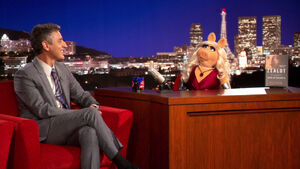 Reza Aslan (b. 1972) is an Iranian-born American author and member of the American Academy of Religion with a PhD in Sociology. He has written two books, No god but God: The Origins, Evolution, and Future of Islam, and Zealot: The Life and Times of Jesus of Nazareth, and frequently appears on news magazine shows and the talk show circuit as a religious expert.
Aslan appeared in The Muppets episode "Hostile Makeover" promoting his book Zealot as a guest on Up Late with Miss Piggy. His appearance follows a brief makeover of Up Late after Miss Piggy starts dating Josh Groban and suggests making the show more refined.
Ad blocker interference detected!
Wikia is a free-to-use site that makes money from advertising. We have a modified experience for viewers using ad blockers

Wikia is not accessible if you've made further modifications. Remove the custom ad blocker rule(s) and the page will load as expected.