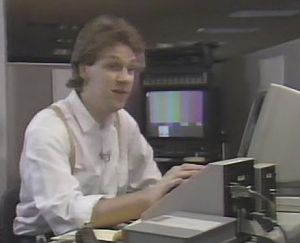 Rex Grignon is a computer animator who has spent most of his career at Pacific Data Images, which rendered Waldo C. Graphic for The Jim Henson Hour and Muppet*Vision 3-D. Grignon appeared as himself in the Jim Henson Hour episode "Secrets of the Muppets." He demonstrates how Waldo's movements are converted into real-time computer animation, which in turn are letter re-rendered in high resolution for the final product
Grignon studied animation at Sheridan College and the New York School of technology before joining PDI in 1988, with The Jim Henson Hour as one of his early assignments. He also worked on the TV special The Last Halloween and assorted Pillsbury Doughboy commercials. He briefly left PDI for Pixar, working as an animator on Toy Story, but soon returned to PDI as supervising animator on Antz, mostly working on the character General Mandible. PDI subsequently merged with Dreamworks Animation, but Grignon remained as head of character animaton, working on Shrek, Madagascar, and Kung Fu Panda.
External links
Ad blocker interference detected!
Wikia is a free-to-use site that makes money from advertising. We have a modified experience for viewers using ad blockers

Wikia is not accessible if you've made further modifications. Remove the custom ad blocker rule(s) and the page will load as expected.