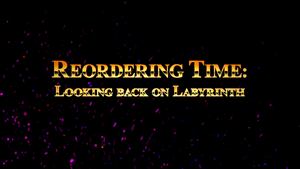 Reordering Time: Looking Back on Labyrinth is a 9 minute and 31 second featurette produced for the 4k Blu-ray release of Labyrinth in 2016.
It features interviews with Jennifer Connelly, Brian Henson, Lisa Henson, Cheryl Henson looking back on Labyrinth thirty years after its release.
Ad blocker interference detected!
Wikia is a free-to-use site that makes money from advertising. We have a modified experience for viewers using ad blockers

Wikia is not accessible if you've made further modifications. Remove the custom ad blocker rule(s) and the page will load as expected.