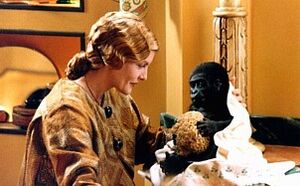 Rene Russo (b. 1954) is a film actress who has appeared in Lethal Weapon 3, Outbreak, Get Shorty, The Thomas Crown Affair and Yours, Mine and Ours.
In 1997, Russo played Gertrude Lintz, the lead role in the Jim Henson Pictures film Buddy.
Notes
Former Mr. Snuffleupagus Michael Earl met Rene Russo at Calvary Baptist Church in New York City in the early 1980s, and the two became great friends.
External links
Ad blocker interference detected!
Wikia is a free-to-use site that makes money from advertising. We have a modified experience for viewers using ad blockers

Wikia is not accessible if you've made further modifications. Remove the custom ad blocker rule(s) and the page will load as expected.