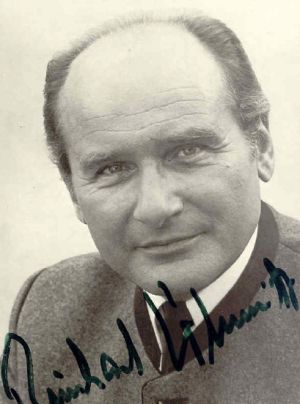 Reinhard Glemnitz (b. 1930) is a German actor who voiced Louis Kazagger on Die Muppet Show and in the German dub of The Great Muppet Caper. In Die Reise ins Labyrinth (Labyrinth), he dubbed the Left Door Knocker.
For Creature Shop-effects films, Glemnitz later dubbed Mr. Pilkington in Animal Farm and The Guide in The Hitchhiker's Guide to the Galaxy.
Glemnitz studied at the Otto-Falckenberg-Schule in Munich, and initially performed mainly in cabaret. In 1954, he entered films, and the following year, began a long career as a dubbing actor. He was a frequent German voice for Anthony Perkins, in six films, and also dubbed Michael Caine (thrice), Edward Fox (A Bridge Too Far), Michael Gambon (Mobsters), Robin Williams (The Best of Times), and Ian Holm (Blue Ice).
On-camera, Glemnitz starred on the German series The Komissar, and in English-language productions, he had a small part in Bloodline (with James Mason) and appeared as part of the international cast in the miniseries The Winds of War and its sequel War and Remembrance (as different characters in each).
External links
Ad blocker interference detected!
Wikia is a free-to-use site that makes money from advertising. We have a modified experience for viewers using ad blockers

Wikia is not accessible if you've made further modifications. Remove the custom ad blocker rule(s) and the page will load as expected.