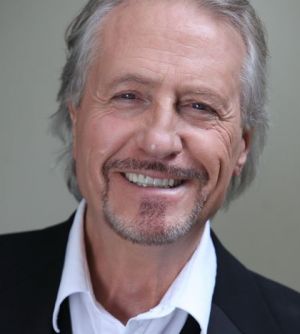 Reiner Schöne (b. 1942) is a German actor and voice artist who has worked steadily in both Germany and Hollywood, at various times. He dubbed John Cleese on Die Muppet Show (the German dub of The Muppet Show). He also dubbed James Coburn in the Creature Shop-effects film Snow Dogs.
Schöne began his career as a singer, performing in concerts, musicals (including Harold Hill in The Music Man and Berger in Hair) and the Eurovision song contest. Although born in then-Communist controlled East Germany, he escaped to West Germany in 1968. His European TV credits included the long-running German detective series Tatort and the French co-production anthology Les grands détectives (starring in one episode as Nick Carter). He first gained Hollywood attention through co-starring roles in The Return of Sabata (1971, starring Lee Van Cleef) and The Eiger Sanction (1975, with Clint Eastwood).
Relocating to Los Angeles in the 1980s, the German actor was a frequent TV presence, usually typecast as villains. In miniseries, he was featured in Disney Channel's Return to Treasure Island (1986, as Van Der Brecken) and played Major Gurtman, the principal heavy, in the 1987 dystopian drama Amerika. He guest starred on sci-fi fare such as Star Trek: The Next Generation (as the alien Esoqq in "Allegiance"), Babylon 5 (as Dukhat, a rare sympathetic turn), and Sliders (as Kolitar), as well as detective or adventure series: Murder, She Wrote, MacGyver, the 1992 Tarzan series, Scarecrow and Mrs. King, Matlock, and Jake and the Fatman. In movies, he played Shinnok in Mortal Kombat 2: Annihilation and appeared in assorted made-for-TV thrillers.
As a dubbing actor, Schöne worked sporadically in the 1970s, including Die Muppet Show and dubbing himself and other actors (usually Italian). When he moved back to Germany in 2002, he dubbed Willem Dafoe in Spider-Man and became the actor's primary German voice. He also dubbed the iconic roles of Darth Vader in Revenge of the Sith (and The Empire Strikes Back DVD dub) and Optimus Prime in the Transformers movies. Other dub assignments include Sam Elliott in Hulk and Ghost Rider, Tim Curry in Charlie's Angels and The Color of Magic, Bruce Spence in Matrix - Revolutions, John Hurt in The Limits of Control, and Michael Gambon in Layer Cake, as well as Papa Smurf in The Smurfs (2011) and Bayard the hound in Tim Burton's Alice in Wonderland.
In English-language voice-overs, Schöne was a guest villain on Batman: Beyond and has been heard in the video games Dark Reign, Medal of Honor: Frontline, and Two Worlds.
External links