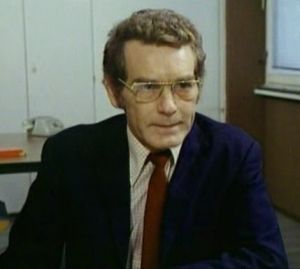 Reiner Brönneke (1929-1995), credited on some albums as Reiner Bronnecke, was a German voice actor who was the original dubbing voice of Lefty (Schlemihl) on Sesamstrasse. He was heard on the earliest Sesamstrasse albums as well, but by 1976, Horst Stark had assumed the role.
Like many Hamburg-based actors, Brönneke was active in dubbing, often as authority figures such as army officers, police, deputies, or judges. He dubbed guest actors on Columbo, James Luisi as Lt. Chapman on The Rockford Files, Robert Stack on The Untouchables and many minor cowboys on Bonanza. He founded his own studio, Hamburger Synchron, in 1982. Brönneke directed many of the studio's dubs, including The Incredible Hulk TV movies, Battlestar Galactica, and the TV movie Race of Angels (where he dubbed Bill Cobbs). Hamburger Synchron remains active and has been used for recording and mixing Sesamstrasse Live shows.
His movie credits included the krimi (crime) films Dr. Crippen lebt (1958) and Der Mörderclub von Brooklyn (1967, aka A Body in Central Park), the latter part of the Jerry Cotton film series. TV credits included episodes of Percy Stuart (with Claus Wilcke) and Hamburg Transit.
In audio dramas, Brönneke was heard as Tabaqui in Kipling's The Jungle Book, Simon Legree in Uncle Tom's Cabin, Pap Finn in The Adventures of Huckleberry Finn, robber Bloom in Pippi Longstocking records, and in various chapters of the The Three Investigators and Perry Rhodan series.
Discography
External links