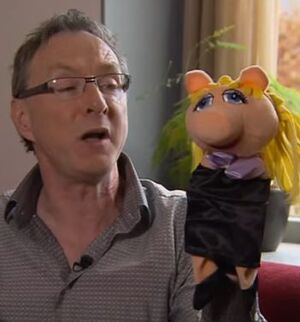 Reinder van der Naalt (b. 1956) is a Dutch voice actor and cabaret performer who dubbed both Miss Piggy and Fozzie Bear in the Dutch dub of The Muppets, as well as of Muppets Most Wanted. He previously dubbed characters on Sesamstraat, primarily Stinky and Colambo.
In animation, van der Naalt dubbed Ludwig Von Drake on Mickey Mouse Clubhouse and other projects, Turner on Handy Manny, Pinky and Buttons on Animaniacs, Homer Simpson in The Simpsons Movie, the Duke of Weselton in Frozen, Professor Nimnul on Chip and Dale Rescue Rangers, J. Gander Hooter and guest villains on Darkwing Duck, and Wheezy in Toy Story 2. He dubbed Warwick Davis in the Harry Potter movies, while video games include The Longest Day (Stickman Woody and others) and Infamous.
External links
Ad blocker interference detected!
Wikia is a free-to-use site that makes money from advertising. We have a modified experience for viewers using ad blockers

Wikia is not accessible if you've made further modifications. Remove the custom ad blocker rule(s) and the page will load as expected.