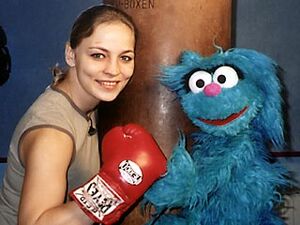 Regina Halmich (b. 1976) is a German boxer and world champion title holder, as designated by the Women's International Boxing Federation. Her record boasts 48 wins, one loss, and one draw. She was interviewed by Feli Felu in a 2004 episode of Sesamstrasse.
Ad blocker interference detected!
Wikia is a free-to-use site that makes money from advertising. We have a modified experience for viewers using ad blockers

Wikia is not accessible if you've made further modifications. Remove the custom ad blocker rule(s) and the page will load as expected.