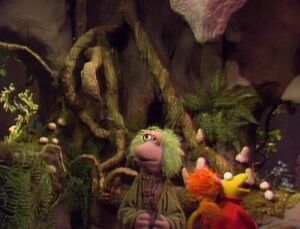 Red and Mokey's Room is a room which is shared by best friends Red Fraggle and Mokey Fraggle. In "A Cave of One's Own", Mokey and Red decide to move in together and search for a new cave to share. They find a previously unknown cave that looks out right over the great hall. Mokey's pet night-blooming yellow-leaved deathwort, Lanford, also resides in Red and Mokey's room, although he takes an instant mutual dislike to Red.
Ad blocker interference detected!
Wikia is a free-to-use site that makes money from advertising. We have a modified experience for viewers using ad blockers

Wikia is not accessible if you've made further modifications. Remove the custom ad blocker rule(s) and the page will load as expected.