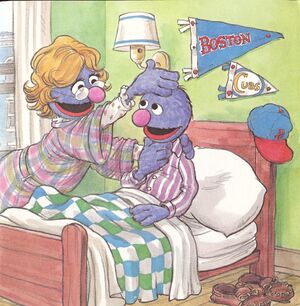 The Boston Red Sox are a professional baseball team based in Boston, Massachusetts, and a member of Major League Baseball's American League Eastern Division. Founded in 1901 as one of the American League's eight charter franchises, the Red Sox's home ballpark has been Fenway Park since 1912. Among former members of the team are Babe Ruth, Ted Williams and Tim McCarver.
In 2004, Sababa produced a Kermit plush in a Red Sox shirt.
References
In a Sesame Street insert, a group of city residents try striking up conversations with a group of monsters they recently discover to be nice. One Anything Muppet asks the monsters if they like the New York Yankees. One replies they prefer the Boston Red Sox. (EKA: Episode 1241)
External links
Ad blocker interference detected!
Wikia is a free-to-use site that makes money from advertising. We have a modified experience for viewers using ad blockers

Wikia is not accessible if you've made further modifications. Remove the custom ad blocker rule(s) and the page will load as expected.