Songs from
Rechov Sumsum
Released
1984
Format
LP
Label
CBS
Cat no.
26189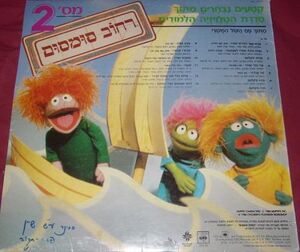 Rechov Sumsum Program 2 (selected songs and stories from the series) is an album that was released in Israel in 1984. It features Israeli songs and stories from the local Sesame Street show, all in Hebrew. Featuring Kippi Ben Kippod. The record came with a large glossy poster with Kippi on it, which on the other side has credits and photos of the Rechov Sumsum cast and the Muppets' voice cast.
Track listing
Side One
Kippi Ben Kippod
Hot Corn (song)
When You Eat (song)
Crumbs in Bed!!!
That's How We Travel (song)
Kippi Lost 10 Shekels
One Man Band (song)
1,2,3! (song)
Homes
2 Homes + 2 Homes
It's so Fun in Two's
Side Two
12 Moons (song)
Close Your Eyes and Imagine
Orchard
Citris (song)
What Happened?!
Autumn
Winter
Spring
I Remembered! I Remembered!
Doughnut (song)
Hanuka
Hello in Many Languages
Rechov Sumsum (end song)
Ad blocker interference detected!
Wikia is a free-to-use site that makes money from advertising. We have a modified experience for viewers using ad blockers

Wikia is not accessible if you've made further modifications. Remove the custom ad blocker rule(s) and the page will load as expected.