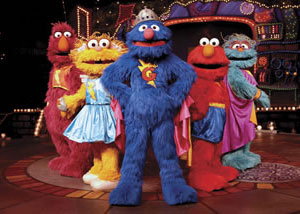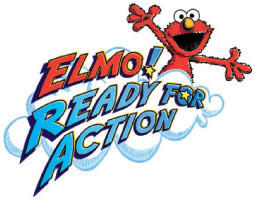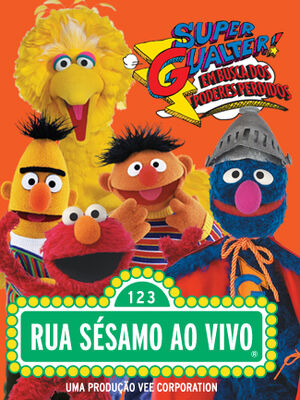 Super Grover! Ready for Action is a Sesame Street Live show produced by VEE Corporation in 2005, which continues to tour. In 2010, it was revived again as Elmo's Healthy Heroes!, as the newest addition to the tour of Sesame Street Live.
When Super Grover loses his "superness," Elmo, Zoe, Rosita and Telly Monster fill in with their own superhero alter egos. Aided by the Big Cheese and Kay, the four monsters become Captain Fuzzy, WonderZoe, Muchacha Fantástica and Triangle Boy.
In 2008, the show toured as Elmo! Ready for Action.[1] The show has been performed to a Portuguese-language soundtrack as Rua Sésamo ao Vivo: Super Gualter embusca dos poderes perdidos.[2] The show has been performed to a Spanish-language soundtrack as El Show de Barrio Sésamo: Super Coco en acción.[3]
Cast
Performer cast
Ryan Benetz as Big Bird 2007 - 2009
Terrence Bynum as Telly Monster 2007 - 2009
Dani Cohen as Roxy Marie 2007 - 2009
Carlos Martinez as Rosita 2007 - 2009
Kristin Mazzulli as Ernie, 2007-2008, Grundgetta 2008-2009
Jessica Miller as Elmo, 2008[4]
Jeffery Johnson as Honker 2007 - 2009
Denise Pajak as Bert 2007 - 2009
Kevin Wheeler as Super Grover[5]
Christie Anstine as Count von Count, 2007-2008 arena tour
Pamela Kaminski as Roxy Marie/Small Understudy, 2007-2008
Dawn Newman as Kay/Live Performer 2006-2007
Soundtrack
Sources
Ad blocker interference detected!
Wikia is a free-to-use site that makes money from advertising. We have a modified experience for viewers using ad blockers

Wikia is not accessible if you've made further modifications. Remove the custom ad blocker rule(s) and the page will load as expected.