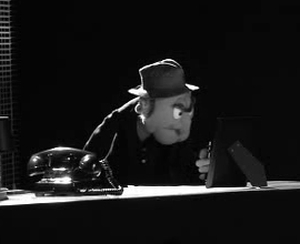 Raymond Chandler (1888-1959) was a popular novelist whose influence on modern crime fiction has been immense, particularly in the writing style and attitudes that much of the field has adopted over the last 60 years. Chandler's protagonist, Philip Marlowe, has become synonymous with the tradition of the hard-boiled private detective, along with Dashiell Hammett's Sam Spade. His novels include The Big Sleep (1939), Farewell, My Lovely (1940) and The Long Goodbye (1954).
References
Connections
Ad blocker interference detected!
Wikia is a free-to-use site that makes money from advertising. We have a modified experience for viewers using ad blockers

Wikia is not accessible if you've made further modifications. Remove the custom ad blocker rule(s) and the page will load as expected.