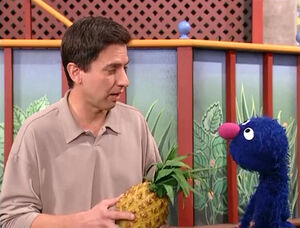 Ray Romano (b. 1957) is an Emmy Award-winning American comedian and actor. He is best known for being the star of the comedy series Everybody Loves Raymond.
Romano appeared in Sesame Street Episode 3983. Romano tried to describe "frustrated", but encountered problems because Grover thinks he wants to talk about pineapples, head coverings or cheese balls.
External links
Ad blocker interference detected!
Wikia is a free-to-use site that makes money from advertising. We have a modified experience for viewers using ad blockers

Wikia is not accessible if you've made further modifications. Remove the custom ad blocker rule(s) and the page will load as expected.