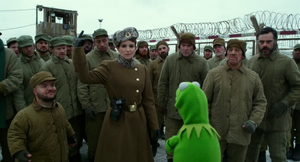 Ray Liotta (b. 1954) is an actor best known for his role in Goodfellas.
Liotta made a cameo appearance in Muppets from Space, playing the security guard at C.O.V.N.E.T. who refuses to let Miss Piggy through. Piggy is forced to use Muppet Labs Mind Mist on the guard to gain entrance. He also appeared in Muppets Most Wanted as Big Papa, a prisoner in Gulag 38B.
External links
Ad blocker interference detected!
Wikia is a free-to-use site that makes money from advertising. We have a modified experience for viewers using ad blockers

Wikia is not accessible if you've made further modifications. Remove the custom ad blocker rule(s) and the page will load as expected.