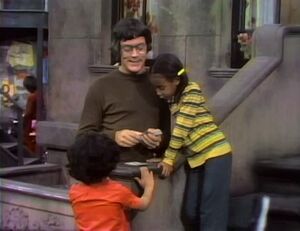 Raúl Juliá (1940 - 1994) was a Puerto Rican actor whose career spanned stage and screen, and included dramatic, comic, and musical roles. Juliá received four Tony Award nominations for his roles in Two Gentlemen of Verona (1972), Where's Charley? (1975), as Mack the Knife in The Threepenny Opera (1977), and in the Fellini-inspired Nine (1982). Juliá is also well known for his film roles as Valentin Arregui in Kiss of the Spider Woman, and Gomez Addams in the two Addams Family movies.
Juliá appeared on Sesame Street as a regular cast member, Rafael, in Season 3 (1971-1972).
External links
Ad blocker interference detected!
Wikia is a free-to-use site that makes money from advertising. We have a modified experience for viewers using ad blockers

Wikia is not accessible if you've made further modifications. Remove the custom ad blocker rule(s) and the page will load as expected.