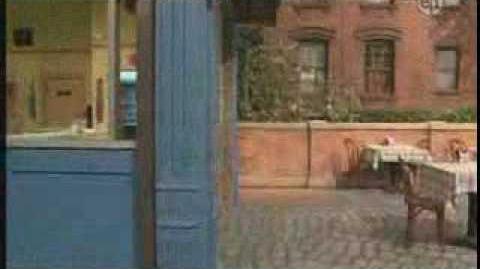 Rapid T. Rabbit and Friends is a New York City cable access puppet show. Created for children, the weekly series started in 1983. Guest stars have included Soupy Sales, Greg the Bunny, Chuck E. Cheese, and others. Rabbit appeared on The Daily Show in 1999.
In 1991, the show visited Sesame Street. Big Bird and Telly Monster appeared; Telly drop-kicked Rapid out of the Fix-It Shop.
In the 455th episode of his show, Rapid shows his accidental cameo on Sesame Street itself. The costumed character version of Rapid appeared at the 1997 opening day of a carousel in Riverbank State Park in Hamilton Heights, west of Harlem. A segment was filmed of neighborhood kids creating sketches of their ideas for the carousel, and later the kids at the finished carousel. The resultant segment was shown as part of episode 3910. Rapid and a frog character talk about the segment from the 17 minute to 21 minute mark of their show. At the end of the episode, a Sesame Street PSA by The Ad Council for car seats is shown. The Rapid T. Rabbit costume character was funded in 1990 by Caroll Spinney.
In the 20th anniversary show, Telly came back to apologize to Rapid and make jokes with him. Big Bird and Oscar the Grouch made comments off-camera.
The dedication of a block of street in New York City for the 40th anniversary of Sesame Street was featured in RTR episode 625. Except for a short intro by Rapid, the episode was essentially unedited footage of the event, including multiple minutes of uninterupted photo taking. Grover talks to the camera, asking "is that Richard?" Oscar also talks to RTR, commenting the street will revert to its previous name the next day. Abby Cadabby and Elmo walkarounds appear at the end for a public meet-and-greet; Leslie Carrara-Rudolph takes a photo of Abby. The episode ends with Big Bird doing a voice-only interview with Rapid T. Rabbit. The episode's credits use the song The Happiest Street in the World, and ends with a PSA about washing your hands. http://www.foxcoon.com/rapidtrabbit/rtr-mpeg4/rtr625.MP4
In 2008, Richard Concepcion, producer and puppeteer of Rapid T. Rabbit, performed a walkoff in the opening shot of Episode 4184 at the invitation of director Jim Martin. He is seen wearing a baseball cap walking past Hooper's Store with his back towards the camera.
External links
Ad blocker interference detected!
Wikia is a free-to-use site that makes money from advertising. We have a modified experience for viewers using ad blockers

Wikia is not accessible if you've made further modifications. Remove the custom ad blocker rule(s) and the page will load as expected.