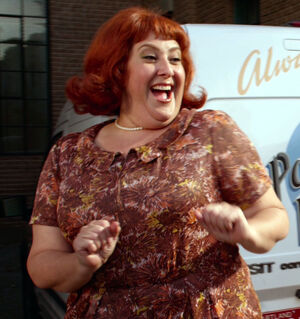 Randi Pareira is a dancer and actress who appears uncredited in the 2011 film The Muppets as a Smalltown resident. In "Life's a Happy Song," she expresses interest in the baker's cake (only for Gary to snatch it away) and can be seen dancing with the rest of the citizenry in the open street later.
Her TV credits, usually unbilled as a dancer, include Glee (one of the mall flash mob in "Dream On"), Buffy the Vampire Slayer (in "Once More with Feeling"), Eli Stone, and American Dreams (as Mama Cass) plus credited acting roles on Scrubs and Strong Medicine. Films include the US remake of The Singing Detective, Hook, The Man Who Wasn't There, and live-action reference for the animated films Hercules (dancing for one of the Muses) and Tom and Jerry the Movie.
External links
Ad blocker interference detected!
Wikia is a free-to-use site that makes money from advertising. We have a modified experience for viewers using ad blockers

Wikia is not accessible if you've made further modifications. Remove the custom ad blocker rule(s) and the page will load as expected.