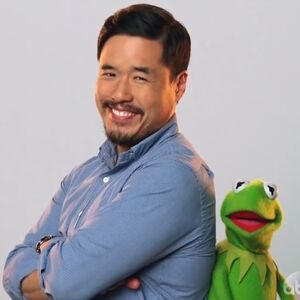 Randall Park (b. 1974) is an American actor who has played Kim Jong-Un in The Interview (with Seth Rogen), Minnesota governor Danny Chung in Veep (with Julia Louis-Dreyfus), and Louis Huang in the ABC comedy Fresh Off the Boat.
His other roles include Dinner for Schmucks (with Steve Carell and Paul Rudd), The 41-Year-Old Virgin Who Knocked Up Sarah Marshall and Felt Superbad About It, Sex Tape (with Cameron Diaz and Jason Segel), They Came Together (with Amy Poehler), The Office (as "Asian Jim Halpert"), and Community (as himself).
In August 2015, he and his Fresh co-star Constance Wu appeared in a promotional spot for The Muppets. They're joined by Gonzo who has timing trouble delivering his lines.