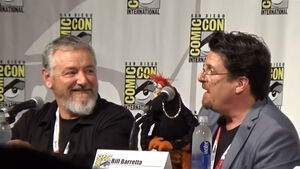 Randall Einhorn is a director and cinematographer working in television since the late 1990s. He worked as a camera operator on Survivor, and directed episodes of the American version of The Office, Parks and Recreation, It's Always Sunny in Philadelphia, and Modern Family.
In 2015, Einhorn directed a 10-minute presentation pilot pitched to ABC for a new Muppet series. The show was picked up, and Einhorn was hired to direct the series. In July, Einhorn joined writer/producers Bill Prady and Bob Kushell in a panel at San Diego Comic-Con.
Director Credits
Ad blocker interference detected!
Wikia is a free-to-use site that makes money from advertising. We have a modified experience for viewers using ad blockers

Wikia is not accessible if you've made further modifications. Remove the custom ad blocker rule(s) and the page will load as expected.