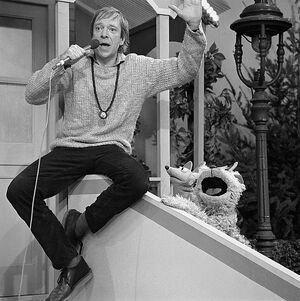 Ramses Shaffy
(1933-2009) was a Paris-born
Dutch
chansonnier, musician, and actor.
Shaffy visited the set of Sesamstraat, the Dutch co-production of Sesame Street, in the early eighties, to sing a song for Ieniemienie and Tommie. The duo enjoy his song so much that they start dancing to it.
Born in France, Shaffy spent most of his youth in the Netherlands. In 1952, he attended the Amsterdamse Toneelschool (School of Theater Arts), and in 1964 he founded the Shaffy Chantant theater group, leading to a lifelong collaboration with singer Liesbeth List. Shaffy's most successful songs were from this period. His hit song Wij zullen doorgaan (We Will Go On), was parodied by comedian André van Duin in 1975.
In the 1990s, Shaffy played Don Quixote in the musical Man of La Mancha. A 2002 documentary about Shaffy, simply called Ramses, won a Gouden kalf (Golden Calf), an important Dutch film award. That same year, Shaffy himself was awarded the Blijvend Applaus Prijs (Permanent Applause Prize), given to performance artists for their complete works. Other winners of the award are Lex Goudsmit and Adèle Bloemendaal.
In May 2009 it was made public that Ramses Shaffy suffered from esophageal cancer. Being positive as always, he considered his disease a new interesting part of his life. Shaffy died half a year later, aged 76.
External Link
Ad blocker interference detected!
Wikia is a free-to-use site that makes money from advertising. We have a modified experience for viewers using ad blockers

Wikia is not accessible if you've made further modifications. Remove the custom ad blocker rule(s) and the page will load as expected.