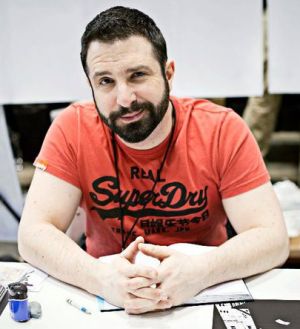 Ramón Pérez, also known as Ramón K. Pérez, is an artist and writer, primarily in comic books, who did the art for the 2012 graphic novel of Tale of Sand, using the unproduced screenplay by Jim Henson and Jerry Juhl. He won an Eisner Award (awarded every year at San Diego Comic-Con) for Best Colorist and Best Penciller/Inker on the book. He also wrote and illustrated a 2013 Free Comic Book Day Farscape issue story "Backyard Barbecue."
Pérez has worked for Marvel Comics on Captain America, The Amazing Spider-Man, Deadpool, and X-Men. He handled art chores on a three-issue story in DC's JSA: Classified (2005), has worked on ongoing Star Wars and Thundercats comics, and supplied alternate covers for select Archie Comics issues.
External links
Ad blocker interference detected!
Wikia is a free-to-use site that makes money from advertising. We have a modified experience for viewers using ad blockers

Wikia is not accessible if you've made further modifications. Remove the custom ad blocker rule(s) and the page will load as expected.