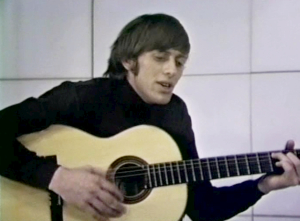 Ralph Endersby (b. 1950) is a Canadian actor who first gained popularity as an adolescent, playing Junior Ranger leader Chub Stanley on the CBC juvenile adventure series The Forest Rangers (1963-1966, co-starring Gerry Parkes and Eric Clavering). Endersby was one of many CBC television vets to appear in Jim Henson's 1969 experimental drama The Cube, as the guitarist whose band practice unnerves the protagonist. A portion of the guitarist's song lyrics were later quoted in the book It's Not Easy Being Green.
Endersby's other acting credits included roles in a few 70s Canadian features, including Homer, Rip-Off (with Hugh Webster), and Vengeance Is Mine (with Louis Zorich, Eric Clavering, and Carl Banas). In recent years, Endersby has switched to writing and directing, and also produced the 1989 TV movie The Challengers.
External links
Ad blocker interference detected!
Wikia is a free-to-use site that makes money from advertising. We have a modified experience for viewers using ad blockers

Wikia is not accessible if you've made further modifications. Remove the custom ad blocker rule(s) and the page will load as expected.