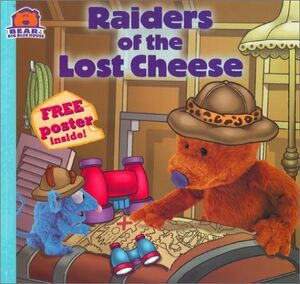 In the Bear in the Big Blue House book Raiders of the Lost Cheese, adventurous Ojo and Sir Tutter discover something mysterious and exciting in Atticania -- a treasure map. Tutter recognizes the initials on the map (T.T.T.) as those of his great-grandfather, Tutterly T. Tutter, and the map leads to his treasure --- the great lost cheese. Pretty soon, everyone joins in the fun to help Tutter find this legendary cheese.
This book, which is named as a spoof on Raiders of the Lost Ark, combines original illustrations and photos of the characters from the show. The paperback version of this book included a free poster.
Ad blocker interference detected!
Wikia is a free-to-use site that makes money from advertising. We have a modified experience for viewers using ad blockers

Wikia is not accessible if you've made further modifications. Remove the custom ad blocker rule(s) and the page will load as expected.