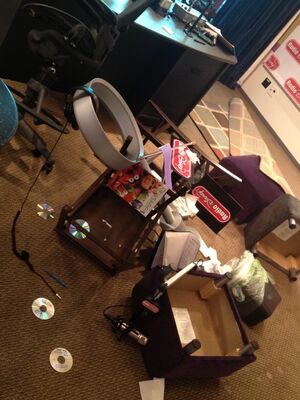 Radio Disney is a California-based radio network, airing youth-oriented contemporary hits.
November 17, 2011: The Muppets had a "takeover" of Radio Disney, at 6 pm ET. DJs from the station posted a photo of their studio, alleged trashed by Animal.
November 17, 2011: Celebrity Take with Jake is a web video series, released on YouTube. Kermit, Miss Piggy, and entertainment reporter Jake Whetter whipped their hair, along to Willow Smith song "Whip My Hair". (YouTube)
Ad blocker interference detected!
Wikia is a free-to-use site that makes money from advertising. We have a modified experience for viewers using ad blockers

Wikia is not accessible if you've made further modifications. Remove the custom ad blocker rule(s) and the page will load as expected.